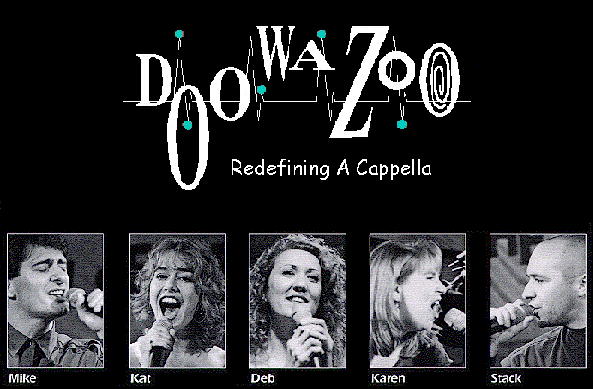 Photos by Tina O'Halloran
Looking for DOO·WA·ZOO? Well, look no further!
So, what would you like to do...?
Want to hear the sound? No need to wait for a long download. This site is

.
To check it out, as well as some sound bytes and a video file, visit our sound page.

Order our cassette Onomatopoeia online.
Get in touch with DOO·WA·ZOO.
Find out about Upcoming Appearances
Visit links to other a cappella and music sites on the web.
Hear what others have to say about DOO·WA·ZOO.
Since December 1, 1997, This page has been visited by 74262 people.
Powered by WebRing.
This site was created and is maintained by LRF.NET.
If you find any problems with this site, please let us know.
You can send E-Mail to Webmaster@doowazoo.com.
---
DOO·WA·ZOO's Home Page / Webmaster@doowazoo.com / revised October 23, 1998