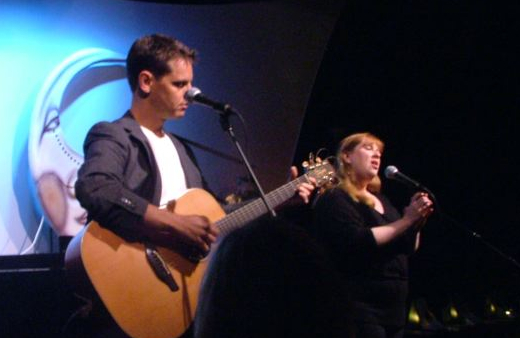 (Photo courtesy of S.V. Hamstra)
MICHAEL HOLLAND
Winner of BackStage Magazine's 2006 Ira Eaker Special Achievement Award ("outstanding performer/songwriter on the rise"), NYC-based Michael Holland is equally at home in the musical worlds of rock/pop, cabaret, and theater. As creepy as that looks on paper, it is no less true. Originally from Southeastern Connecticut (where virtually nothing happened), Holland was a fixture on the Northeast singer / songwriter circuit during the 90s. He went on to form the trio Comfortable Shoes, who released one CD (produced, arranged, and co-written by Holland), and performed coast-to-coast from San Francisco to Carnegie Hall. In 2001 his third solo CD, the electronica-fueled "Darkness Falls," garnered a Blockbuster/MP3 Award for Favorite Male Performer - Rock. His fourth, 2004's "Beach Toys Won't Save You," nabbed the OutMusic Award for Songwriter of the Year. An in-demand studio musician and vocalist with a four-octave range, Holland has had many of his songs performed and/or recorded by people you've probably never heard of, but the checks cleared. As musical director/arranger, Holland has worked with many of NYC's top cabaret performers, sixteen of whom were featured in an evening of his original music, entitled "Mikey Writes It!" (MAC Award, Best Revue, 2003.) In 2004, Holland penned music and lyrics for "Believe in Me...a Bigfoot musical," cited by the New York Times as the #1 show to see at FringeNYC, out of 200 productions presented. He also arranged and performed the world premiere of "Another Day in the Modern World," which appeared on "The Maury Yeston Songbook," released by psclassics. He has provided arrangements for the New York City Gay Men's Chorus, incidental music for "Starstruck" (Rattlestick Theatre) and "Sand" (Provincetown Rep), and scored the animated short "Cabbage Boy."
And besides being half of the duo as a performer, Michael also serves as musical director/arranger for downtown sensation and critics' favorite "Gashole!", a multi-award winning maniacal salute (?) to pop music, now in its tenth year.
Recent projects include playing and musical directing the 2010 Drama Desk Awards, orchestrations/vocal arrangements for the upcoming Broadway revival of "Godspell", original compositions for recent productions of "Arsenic and Old Lace" starring Betty Buckley & Tovah Feldshuh (Dallas Theater Center), "Much Ado About Nothing" and "Othello at Houston's prestigious Alley Theatre (all directed by Scott Schwartz). He also composed incidental music for "Intimate Apparel" at Juilliard, "A Servant of Two Masters" at Colorado Shakespeare, and the world premier of A. R. Gurney's play "Crazy Mary" at Playwrights Horizons May 2007 starring Sigourney Weaver. His own current musical in development, "Hurricane," is a full-length original musical about the Great Hurricane of 1938; it was selected for presentation as part of The 2009 New York Musical Theatre Festival (NYMF), and received 3 Awards for Excellence for direction, composition, and design. And Michael is also hard at work now on orchestrations and vocal arrangements for the Broadway revival of "Godspell", coming to Circle in the Square October 2011.
"...Michael Holland, the jack-of-all-musical skills who popped up
not that long ago on the cabaret scene to introduce many new,
often rock-oriented ideas.... So far, no one's been able to
figure out anything the fellow can't do!"

D. Finkle -- The Village Voice




KAREN MACK
Karen is a 2007 MAC Award nominee for Best Female Musical Comedy, as well as a five time Manhattan Association of Clubs award winner for vocal performance and song writing both on her own and for her work with partner in crime, Michael Holland. No small accomplishment, considering that the organization represents hundreds of clubs nationwide and maintains a population of more than 1800 performing, industry, and consumer members. LGNY says "in addition to her sense of humor, she has the kind of voice one longs to hear…her flawless placement, appealing style and dead on performance are electrifying…she'll give you chills she's that good!" and The Village Voice echoes "Mack can sock anything with a rock beat out of the ballpark." She was featured in the premier NYC readings of Stephen Schwartz's newest musical "Wicked", as well as the UK premier of "Brenda Bly, Teen Detective", and joined the London cast of "Build Me A Bridge - The Music of Miller and Hammonds" at the Bridewell Theater in London's West End for a short run January'04. Always drawn to rich and complex vocal harmony, she spent eight years with Doo•Wa•Zoo, a multi-award winning contemporary a cappella quintet. Recently, she was part of the 25th Anniversary Gala of the NY Pops at Carnegie Hall; club appearances include Town Hall, Symphony Space, The Bottom Line, Joe's Pub, The Fez, The Bitter End, Caroline's, The Supper Club and The Plush Room (San Francisco)l, and numerous college keggers. Whenever possible, she appears near just about any jukebox with Mr. Holland, shrieking "Crazy On You" like they wrote it and fighting over why it is a serious professional shortcoming to not be able to name all six original members of Kansas. Karen is signed to the NYC based label Miss Prim Records, and her 2002 CD "Take That" (produced by Michael Holland, available at cdbaby.com) received top honors from Show Business Weekly as one of the year's best releases.


"Like bolt lightning, she electrified the stage from opening to encore…
she sounds like a combination of Linda Ronstadt and Stevie Nicks -
the perfect vocal instrument for rock, country, and all points in between.
Can this gal sing!"

J. Hoglund – Back Stage